Regular price
Rs. 1,037.00
Sale price
Rs. 899.00
Unit price
per
Sale
Sold out
Free shipping on all prepaid orders
Quality Guaranteed
Free Delivery
Doctor Approved
Premium Quality
View full details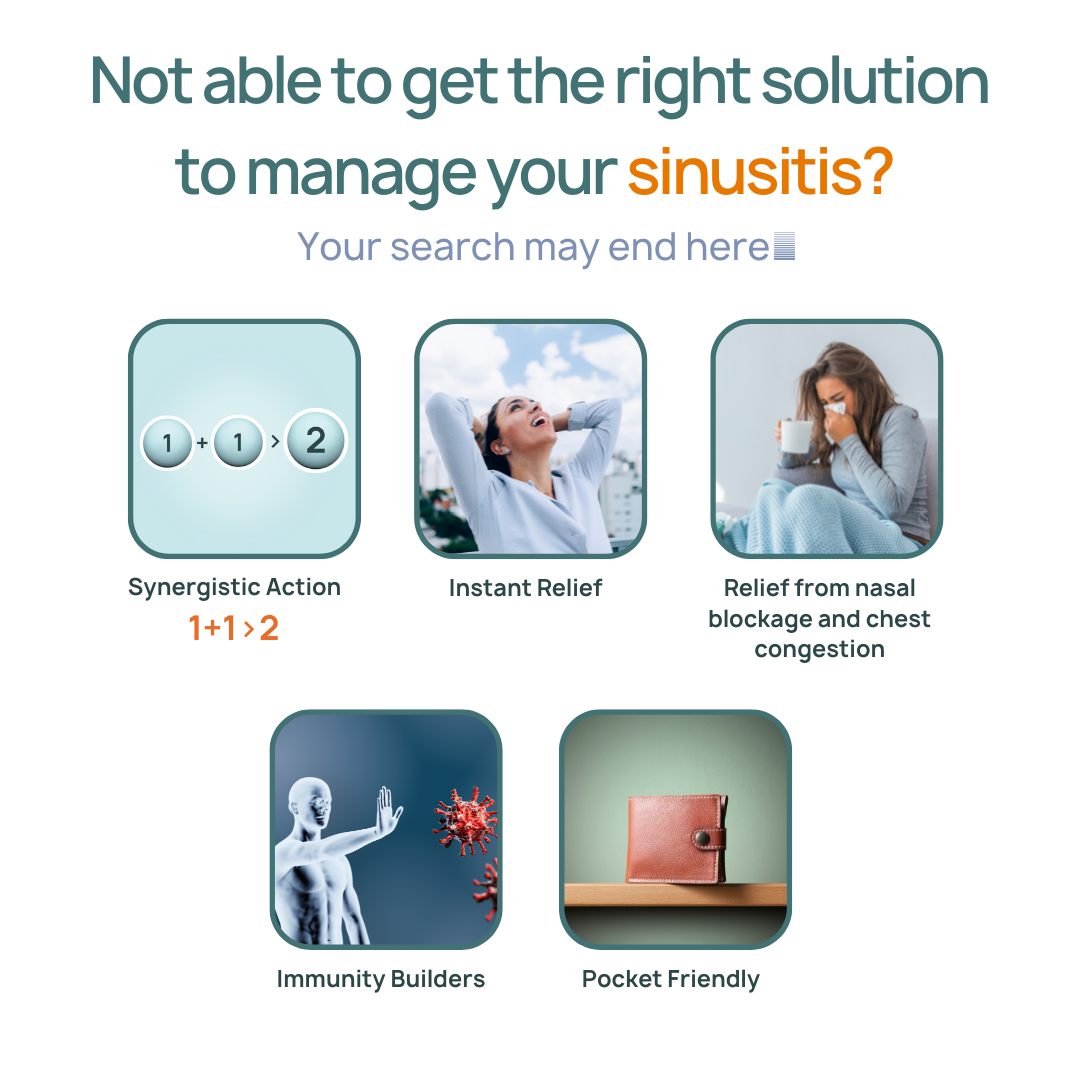 Description
Living with sinusitis for a long time?
Not able to get the right solution to manage your sinusitis? Your search may end here.
Sinusitis is typically caused by viruses, bacteria or allergens and people with poor immunity are more prone to sinus infection. Doesn't it seem dangerous?
Nothing to be concerned about, our sinus wellness pack is here to help you.

Content
This pack contains one Breathofy Syrup, one Breathe Blend, one Bibo Clear Vapor Patch Ultra and one Saline Nasal Spray.
BIBO CLEAR VAPOR PATCH ULTRA Bibo is a pioneer in Vapor patches in India. It immediately relieves nasal congestion and reduces stress and dyspnea. 
BREATHE BLEND: 

It's a blend of premium essential oils. It opens up your sinuses and nasal cavity and makes you feel relaxed. Use it on your vapor patch, or with your steam inhalers and humidifiers.



SALINE NASAL SPRAY: Bibo Saline nasal spray moist your mucosa, relieves symptoms of sinusitis and parallelly builds immunity.
BREATHOFY SYRUP: It works on improving the overall lung health and builds immunity against infections and irritants responsible for sinusitis. Aswagandha, Bhumi Amla and Adulsa are known for their anti-inflammatory and antimicrobial properties.
Benefits
SYNERGISTIC ACTION: Combining the benefits of Breathe Blend, Vapor Patch and Breathofy, the sinus wellness pack provide a long-term solution to your existing sinusitis.
INSTANT RELIEF: Bibo Sinus wellness pack gives you instant relief. With Breathe Blend, Vapor Patch and Nasal Spray, you will immediately experience the benefits of essential oils and other herbs which ensure free and clear breathing.
WHOLESOME RELIEF: Sinusitis often comes with allergies and moments of difficult breathing. With the Bibo Sinus wellness pack get freedom from stubborn nasal blockage or congestion in the nose.
IMMUNITY BUILDERS: It not only gives symptomatic relief but also builds immunity against future infections.
IT IS DIFFERENT FROM OTHERS: Our products are safe for your kids and are pocket friendly too.
Clear Vapor Patch Ultra
Use up to 2 patches per day for kids and up to 3 patches for adults.
Feel free in applying over clothes, it leaves no stains.
Use the patch immediately after tearing the pouch. It's a single-use patch.
Breathe Blend
Use one to two drops on a hanky or pillow for inhalation.
Or add one to two drops for steam inhalation in water or the oils diffuser.
Can also add a drop to the vapor patch for extending efficacy further.
Euro dropper: Just tilt the bottle to get drops. Keep it sealed all the time.
Saline Nasal Spray
Spray in each nostril up to 3 times daily for kids aged between 3 years and 10 years.
For 11 years and onwards, use up to 2 sprays in each nostril up to 4 times a day.
Maintenance Dose: Daily twice, one spray in each nostril.
When using the spray, good to breathe in with nose and breathe out with mouth.
Keep the tip clean, wipe with clean cloth or tissues after use.
Avoid mixing up with others by writing your name with a marker.
Breathofy Syrup
Dosage for boosting lung health in conditions like asthma, bronchitis, and smoker's lungs: 5ml twice a day regularly.
Shake well before use. For best outcomes, take at least 30 minutes before or after meals and avoid having water after taking it.
Breathe Blend is suitable for kids above the age of 5. For younger kids, it can be used only under the supervision of adults.
Seek medical advice if pregnant or lactating before using Breathe Blend.
Avoid contact with eyes and wash with water if came in touch.
Keep out of children's reach.
Vapor Patch is only for EXTERNAL use, do not taste or swallow.
Read the label carefully before use.
Store in a cool and dry place away from direct sunlight.
These are Ayurvedic proprietary medicines and are generally considered safe.
If you face any adverse symptoms or develop any allergy to the products, please discontinue and see a doctor.
Saline Nasal Spray is for nasal use only.
For Breathofy Syrup, finish or discard the product within 6 weeks of opening the bottle.
Breathe Blend:
Blend of following natural essential oils:
Camphor 10%
Thymol 5%
Eucalyptus Oil 40%
Menthol 15%
Pine Oil 30%
Vapor Patch:
Satva Pudina (Menthol) 6%
Kapoor (Camphor) 3%
Eucalyptus Oil 1%
Yavani Satva (Thymol) 1%
Saline Nasal Spray:
Tulsi, Ocimum Sanctum, Leaves, 2.00%
Saline, Lavana, Salt, 0.65%
Excipients: Xylitol, 3%, Purified Water q.s.
Breathofy Syrup:
Every 5 ml of the Syrup contains:
Tulsi, (Ocimum sanctum), Lf, 86 mg
Sunthi, (Zingiber officinale), Rz, 43 mg
Adulsa/Vasa, (Justicia adhatoda), Lf, 69 mg
Mulethi/Licorice, (Glycyrrhiza glabra), Rt, 52 mg
Bhumi amla, (Phyllanthus niruri), WP, 43 mg
Vacha/Sweet flag, (Acorus calamus), Rt, 3 mg
Ashwagandha, (Withania somnifera), Rt, 69 mg
Talispatra, (Abies webbiana), Lf, 43 mg
Mutha/Nut grass, (Cyperus rotundus), Rt, 43 mg
Rudravanti, (Cressa cretica), WP, 34 mg
Pippali, (Piper longum), Fr, 34 mg
Saunf, (Foeniculum vulgare), Fr, 34 mg
Spanish Thyme, (Coleus aromaticus), Lf, 17 mg
Menthol, (Pudina), Lf, 2 mg
Honey, 2000 mg
Excipients & Preservatives: Carboxymethyl Cellulose, Glycerine, and Sodium Benzoate.
Our Customers' perspective on Bibo Products
Wonderful
This sinus wellness pack is nothing short of a blessing in this tricky weather.
Relief package for sinus
I felt it was really helpful to use these products.
instant relief
This product is really nice and effective. Helps me get instant relief from sinus pain.
Highly recommended
Very affordable and impressed by the packaging. I will recommend this for everyone suffering from cold, cough and nasal congestion.
nice
Must give a try. Really nice and effective

Expect overnight results.
Ayurveda is best to use right from first symptoms. Early & and frequent dosage is important

Got medicine! I can eat anything now
Ayurveda is best to use right from first symptoms. Early & and frequent dosage is important
I will take medicine only SOS!
Ayurveda is best to use right from first symptoms. Early & and frequent dosage is important