Regular price
Rs. 578.00
Sale price
Rs. 519.00
Unit price
per
Sale
Sold out
View full details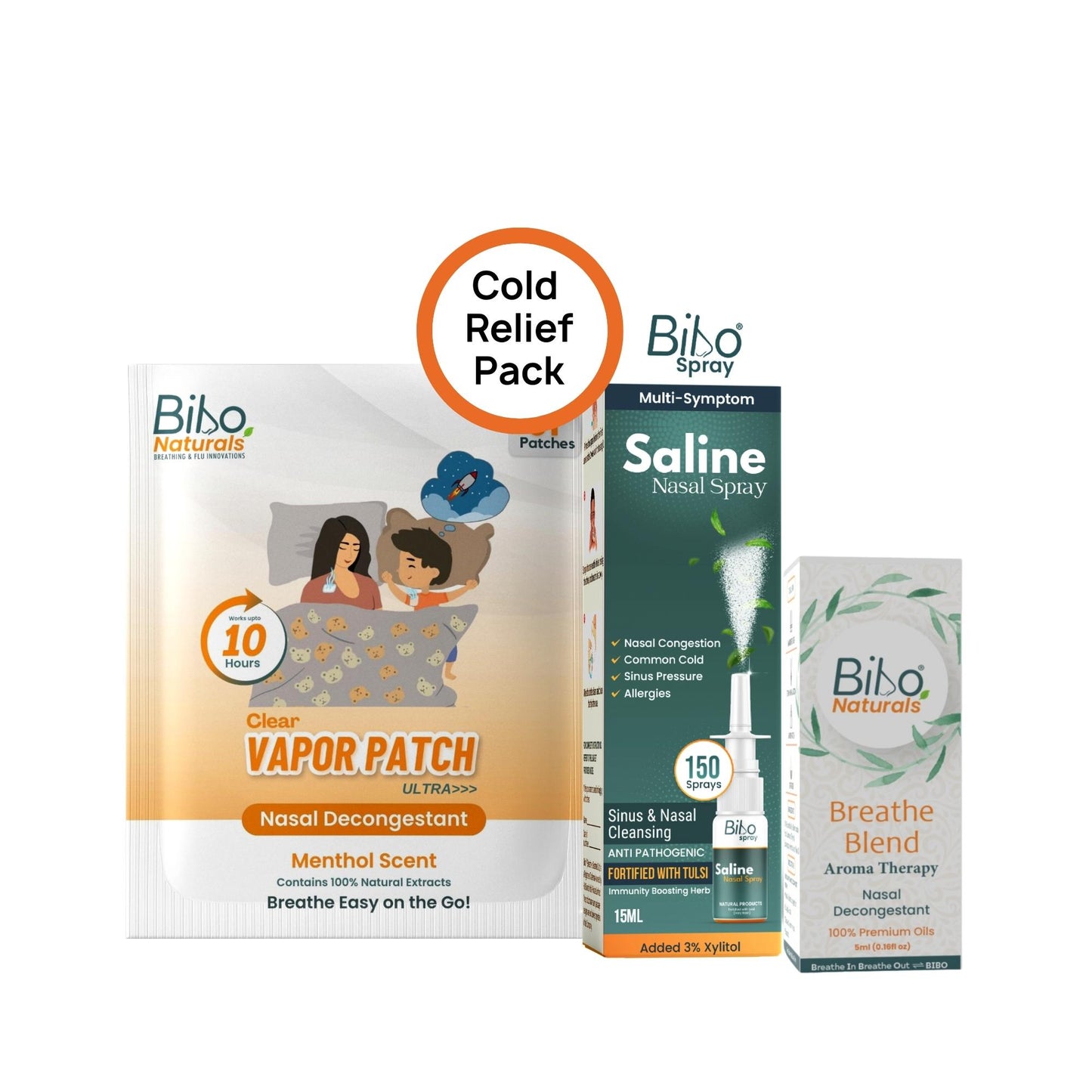 Description
If a chronic cold is not treated right away, it can lead to pain, oedema or infection in sinuses in adults and children.
Be at ease; we are here to defend you from all of these.
Content
This pack contains one Vapor Patches (8 Nos.), one Breathe Blend, and one Saline Nasal Spray (15ML Pack).
BIBO CLEAR VAPOR PATCH ULTRA Bibo is a pioneer in Vapor patches in India. It immediately relieves nasal congestion and reduces stress and dyspnea. It reduces inflammation in the nasal and sinus cavity. It is effective for 10 hours.
BREATHE BLEND You get long-lasting effectiveness from the rich aroma. To assist give best class treatment for colds, coughs, and sinus infections, 5 oils were selected based on their inherent antibacterial, antifungal, and anti-inflammatory qualities.
SALINE NASAL SPRAY Without causing any negative side effects, TULSI AND XYLITOL have powerful antibacterial and anti-inflammatory activities. It has been demonstrated that SALINE & XYLITOL offer effective prophylactic protection against viral and allergy illnesses.
Benefits
SYNERGISTIC ACTION: It launches a triple attack on your blocked or runny nose and sneezing (combining the benefits of Breathe Blend, Vapor Patch and Nasal Spray).
INSTANT RELIEF: Bibo cold relief pack give you instant relief. With Breathe Blend, Vapor Patch and Nasal Spray, you will immediately experience the benefits of essential oils and other herbs.
WHOLESOME RELIEF: Cold often comes with allergies and moments of difficult breathing. With Bibo cold relief pack, get freedom from stubborn nasal blockage or congestion in the nose.
IMMUNITY BUILDERS: It not only gives symptomatic relief but also builds immunity against future infections
KIDS FRIENDLY: Our products are safe for your kids and are pocket friendly.
Clear Vapor Patch Ultra
Use up to 2 patches per day for kids and up to 3 patches for adults.
Feel free in applying over clothes, it leaves no stains.
Use the patch immediately after tearing the pouch. It's a single-use patch.
Breathe Blend
Use one to two drops on a hanky or pillow for inhalation.
Or add one to two drops for steam inhalation in water or the oils diffuser.
Can also add a drop to the vapor patch for extending efficacy further.
Euro dropper: Just tilt the bottle to get drops. Keep it sealed all the time.
Saline Nasal Spray
Spray in each nostril up to 3 times daily for kids aged between 3 years and 10 years.
For 11 years and onwards, use up to 2 sprays in each nostril up to 4 times a day.
Maintenance Dose: Daily twice, one spray in each nostril.
When using the spray, good to breathe in with nose and breathe out with mouth.
Keep the tip clean, wipe with clean cloth or tissues after use.
Avoid mixing up with others by writing your name with a marker.
Breathe Blend is suitable for kids above the age of 5. For younger kids, it can be used only under the supervision of adults.
Seek medical advice if pregnant or lactating before using Breathe Blend.
Avoid contact with eyes and wash with water if came in touch.
Keep out of children's reach.
Vapor Patch is only for EXTERNAL use, do not taste or swallow.
Read the label carefully before use.
Store in a cool and dry place away from direct sunlight.
These are Ayurvedic proprietary medicines and are generally considered safe.
If you face any adverse symptoms or develop any allergy to the products, please discontinue and see a doctor.
Breathe Blend:
Blend of following natural essential oils:
Camphor 10%
Thymol 5%
Eucalyptus Oil 40%
Menthol 15%
Pine Oil 30%
Vapor Patch:
Satva Pudina (Menthol) 6%
Kapoor (Camphor) 3%
Eucalyptus Oil 1%
Yavani Satva (Thymol) 1%
Saline Nasal Spray:
Tulsi, Ocimum Sanctum, Leaves, 2.00%
Saline, Lavana, Salt, 0.65%
Excipients: Xylitol, 3%, Purified Water q.s.
Our Customers' perspective on Bibo Products
Go for it
I sent this product to my mother. writing review on her behalf. Really effective pack for cold
Nice product
Really nice and effective product.
Nice product
Nice and effective product. Worth the money.

Expect overnight results.
Ayurveda is best to use right from first symptoms. Early & and frequent dosage is important

Got medicine! I can eat anything now
Ayurveda is best to use right from first symptoms. Early & and frequent dosage is important
I will take medicine only SOS!
Ayurveda is best to use right from first symptoms. Early & and frequent dosage is important