Research Collaboration-Advanced Herbal Remedies, Kerala
Bibo Breathofy Syrup
---
Immune-building herbs
Reduces shallow breathing & wheezing
Kids will love the taste
Non drowsy | Zero added sugar
---
Free shipping on all prepaid orders
Quality Guaranteed
Free Delivery
Easy Returns
Premium Quality
View full details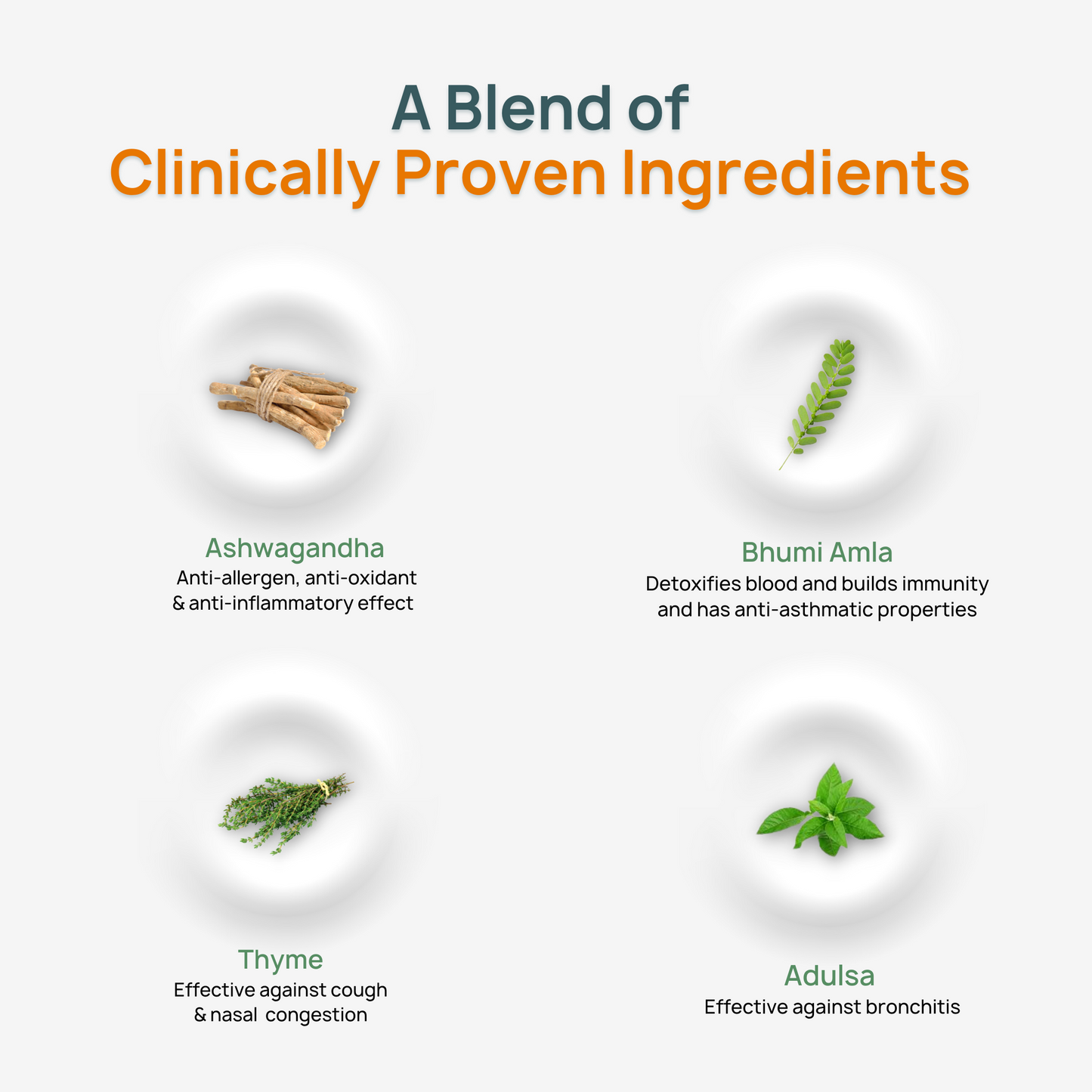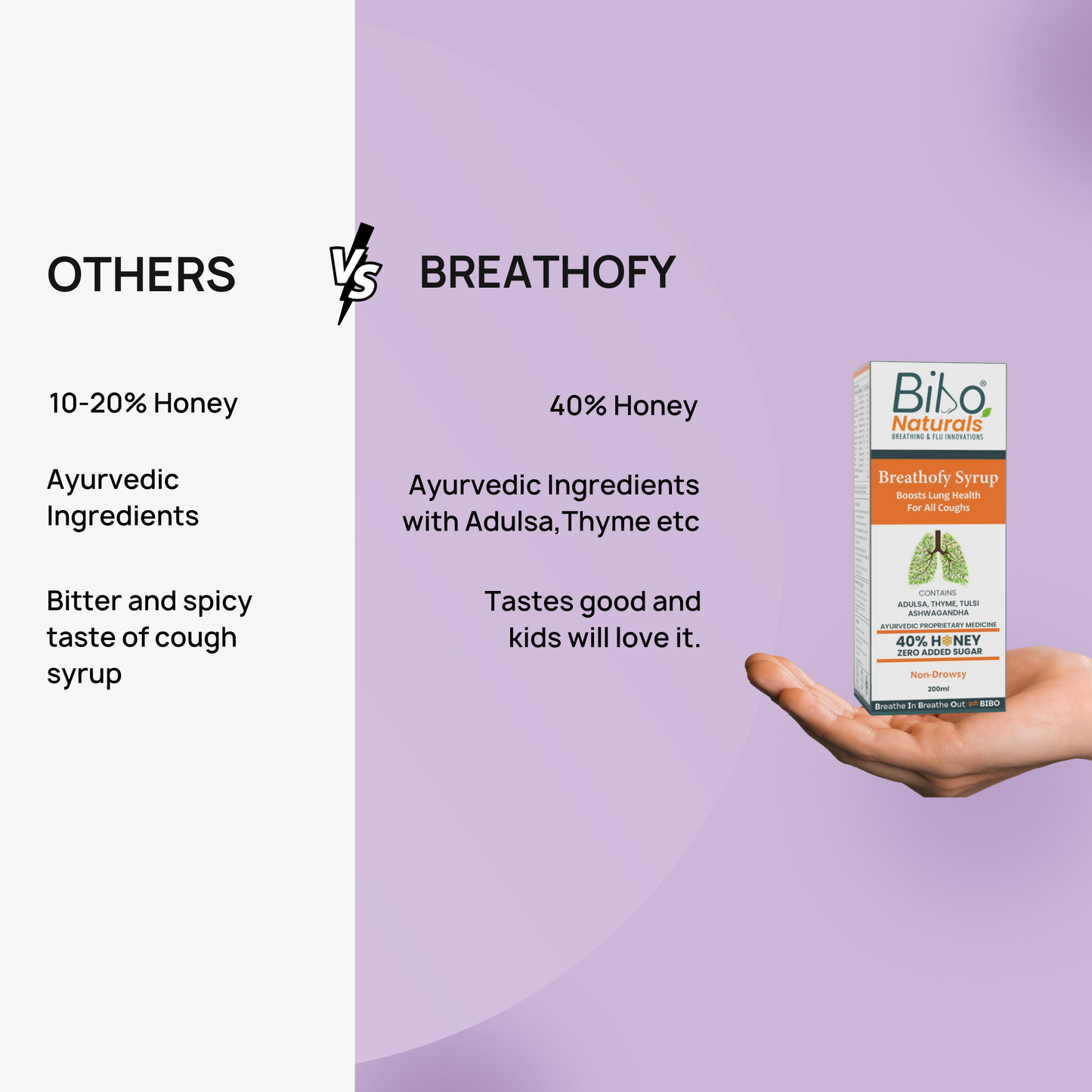 Our Bibo Breathofy Syrup helps you with
Instant soothing with honey and herbs
Immunity from allergens & pathogens
Bronchodilator and mucolytic action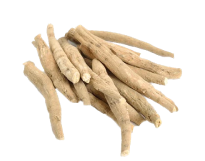 Ashwagandha
Reduces the swelling of the airways, fever, and pain.
Talispatra
Has antibacterial, anti-inflammatory, anti-tussive properties.
Motha (Nutgrass)
Reduces fever, pain, inflammation, and infection.
Rudravanti
Reduces chest & nasal congestion, wheezing, cough etc.
Pudina
Has cooling effect on the throat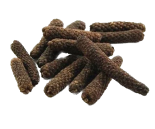 Pippali
Manages asthma, bronchitis, & other inflammatory conditions.
Saunf (Fennel)
kills various viruses and bacteria & reduces inflammation of the airways

Vacha (sweet flag)
Reduces pain & swelling of the airways with its anti-inflammatory properties
Thyme (Indian mint)
contains chemicals that act against various bacterial, viral & fungal infections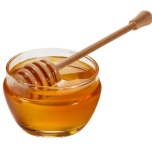 Honey
Honey is an excellent soothing agent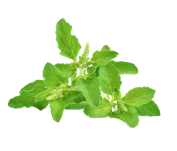 Tulsi (Basil)
Tulsi is known as the "Elixir of life".It is an immunity-building herb.
Ginger (Sunthi)
Relaxes the airway and improves breathing
Adulsa (vasa)
Has cough-suppressant, anti-microbial, & anti-inflammatory actions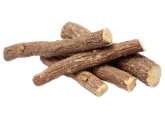 Mulethi (Yashtimadhu)
Has Glycyrrhizic acid & flavonoids which show anti-asthmatic effects.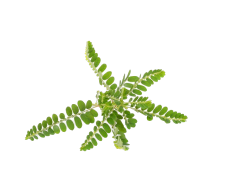 Bhumi amla
Has immune-modulating properties & detoxifies the blood
Breathofy syrup is not an ordinary cough syrup. It helps in the overall improvement of lung health.
Breathofy syrup manages the following conditions-
Cough: Cough is a body's response to eliminate foreign particles like dust, smoke, liquid, or solid particles from the airways. In dry cough, the airways don't produce enough mucus to keep the airways moist, while a wet cough has excess mucus production. Honey, Talispatra, and Adulsa provide a soothing effect on the throat and help deal with a sore throat and dry cough, while herbs like Mulethi help decrease the mucus content in wet cough
Asthma and bronchitis: In asthma and bronchitis, our airways get compromised, thus limiting the oxygen supply to the lungs. It may cause cough, wheezing, breathing difficulty, and shortness of breath. Herbs like Tulsi, Adulsa, Shunti, Mulethi, Vacha, Ashwagandha, Pippali, Thyme and Saunf contain ingredients that help to improve the airflow to the lungs, thus reducing the intensity of symptoms.
Smoking: Smoking can cause inflammation and irritation to the lungs. Tobacco has nicotine and other cancer-causing chemicals. These chemicals get absorbed into your blood, lungs, and other organs and release free radicals in the body, which may cause serious health issues. Breathofy syrup contains free-radical scavenging herbs like Tulsi and Adulsa that help to detoxify the lungs, while Ashwagandha, Rudravanti, and Adulsa help to improve overall lung health. Smoking may also cause lung cancer. The herbs like Pudina, Honey, Motha, and Ginger show anti-cancer properties.
Allergies: Allergies may compromise our airways and nasal passages and cause airway inflammation. Herbs like Tulsi, Shunti, Bhumi amla, and Talispatra help to improve immunity against allergens.
Read the label carefully before use
Keep out of reach of the children
Store in a cool dry place away from direct sunlight
This is an ayurvedic proprietary medicine and is generally considered safe
If you face any adverse symptoms or develop any allergy from the product, please discontinue and see a doctor
If problems persist see a doctor
Unlock the right comfort with breathofy syrup, ending generations of lingering cough.
Unlock the Healing Power of 40% Honey and 14+ Herbs in Every Dose of Breathofy Syrup!
14+ Ayurvedic Herbs
Immunity Builder

Non drowsy
Great Taste

Super convenient
What happens when you take Breathofy Syrup
1-7 Days
Acts against disease causes like infections, allergens and pollutants
7-14 Days
Provides symptomatic relief from cough, cold, sinusitis, congestion, sore throat etc
14-28 Days
Herbs rejuvenate lung cells and improve functioning.
28th Day onwards
Herbs in Breathofy are clinically proven immunity builders.
Research Journal Publication: IAMJ/Sept2022/ "Herbs For Preventing And Managing Acute And Chronic Respiratory Disorders" by Dr Kanchan Jangid and others.
Doctor's Recommendation
On cough syrups
Dr. Vybhav Vijendra
'Strongly recommend not to buy syrups from counter without discussing with a doctor. Some home remedies like gargle or honey can be used to alleviate symptoms.'
Dr. Anju Balakrishnan
'Honey acts as a natural expectorant, soothing the throat and reducing coughing. Herbs like Ashwagandha, Adulsa, Mulethi are great for respiratory health in both short term and long term for better immunity.'
Frequently Bought Together
Breathofy Syrup | Lung...
+
Breathe blend
TOTAL PRICE:
₹391.00
₹418.00
6%

off
You Saved ₹27
Whether you puff or inhale, lungs must not fail.

Whether you puff or inhale, lungs must not fail.
For which all conditions can I use Breathofy syrup?
One can use Breathofy syrup for dry cough, sore throat, cough with phlegm (mucus), common cold, congestion, and seasonal allergies. The syrup also provides relief from shallow breathing, recurrent cough, and wheezing. It gives relief to people with asthma and bronchitis. Breathofy syrup calms conditions like tonsillitis, sinusitis, and rhinitis while improving the body's resistance to allergens and pollution. It also improves the lung health of smokers and people exposed to polluted air.
Is Breathofy syrup safe for kids?
Yes, Breathofy syrup is safe for all age groups, including children one year and above. The recommended dose for kids below four years is 2.5 ml, while children between 5-11 years can take 5 ml. A person above 12 years can take 10 ml of the syrup.
Does Breathofy syrup cause drowsiness?
No, Breathofy syrup is an ayurvedic syrup, and it does not contain any ingredient that may cause drowsiness. All the ingredients are natural and safe to use. You can use breathofy syrup while driving and operating heavy machinery without worrying about dizziness and drowsiness.
What is the role of tulsi in Breathofy syrup?
Tulsi is well known for its wide range of activities. You can find its use for cough, fever, allergies, asthma, and other respiratory conditions due to its inflammation and infection-reducing properties. Tulsi is an immunity-building herb with the properties of detoxifying the lungs and blood.
What is the role of adulsa, and what is the quantity present in Breathofy syrup?
Adulsa is known to reduce inflammation in the airways, especially in bronchitis. Due to its antimicrobial properties, adulsa kills various microbes responsible for infection and hence reduces the common cold, cough, and symptoms associated with chronic bronchitis and asthma. Every 5 ml of the Breathofy syrup contains 69 mg of adulsa extracts.
Does Breathofy syrup contain any artificial or added sugar?
No, it contains honey which acts as a remedy for dry cough and sore throat and as a sweetening agent. Breathofy syrup contains honey. The honey in Breathofy syrup is free of harmful chemicals and without gluten. It is non-genetically modified, with no added sugar.
How does Breathofy syrup taste?
It tastes good, just like honey. Breathofy syrup contains 40% honey which is the maximum quantity among all the mainstream brands in India. Hence, it wouldn't taste spicy like other ayurvedic syrups. So with the best taste, you get the most benefits from honey.
How many times can I take Breathofy syrup in a day?
One can take it up to four times a day for cough relief. The dose is 2.5 ml for children between 1-4 years of age, 5 ml for children between 5-11 years, and 10 ml above 12 years of age. Breathofy syrup is not for infants below one year. For frequent use (in conditions like sinusitis, asthma, bronchitis, smokers, and people exposed to allergens and pollution), take 5 ml twice daily.
Can I take Breathofy syrup for my asthma?
Yes, it can improve the symptoms of asthma and other lung conditions. It contains 15 clinically proven herbs to show positive effects on respiratory health. The anti-inflammatory and anti-asthmatic properties of herbs like Tulsi, Mulethi, Adulsa, Rudravanti, and Honey reduce asthma-associated symptoms.
I am a smoker, so will this syrup help me to reduce my cough?
Yes, this syrup helps manage all coughs, including the smoker's cough. It is not just an ordinary cough syrup but a lung supplement to improve overall lung health. Breathofy syrup contains clinically proven herbs with antioxidant, anti-inflammatory, and anti-cancer effects. You can take 5 ml of Breathofy syrup twice daily to improve lung health.
Can I take Breathofy syrup for my dry cough?
Yes, Breathofy syrup is beneficial for dry and wet coughs. The antibacterial and anti-inflammatory properties of various herbs like Tulsi, Mulethi, Adulsa, Pippali, Saunf, and others help fight against microbes causing infection and reduce inflammation that may cause dry cough.
How is Breathofy syrup different from other syrups?
Honey comprises 40% volume of Breathofy syrup. It has more than honey present in all the famous cough syrups available. It is not an ordinary cough syrup, but a lung supplement. It is safe for all above one year. 
What is the role of Thyme in Breathofy syrup?
Due to its antioxidant and microbes-killing properties, Thyme manage conditions like cold, cough, chronic asthma, hiccough, and bronchitis. The concentrated decoction of Thyme is effective in various respiratory infections.
What is the role of Ashwagandha?
Ashwagandha reduces the inflammation of the airways and nasal passages for better breathing. Due to its inflammation-reducing properties, Ashwagandha helps a person with the common cold, cough, sinusitis, asthma, bronchitis, and other conditions. It also reduces stress and anxiety and acts as a mood enhancer. Ashwagandha also has immunity-building properties.
Can I take Breathofy syrup for my sinusitis?
Yes, Breathofy syrup contains herbs like Tulsi, Adulsa, Motha, Mulethi, and a few others that help to reduce inflammation and infection in the sinuses. Taking 5 ml twice a day may help you prevent and manage the symptoms of sinusitis and other chronic respiratory conditions.
We Promise You Easy Breathing!
Our products are specially curated for a healthy respiratory care regime!
Backed by Ayurveda

Convenient to use
100% Natural
Helps with Easy Breathing
Doctor Recommended
Refreshing
Very refreshing and soothing
Immunity boost
Helped in boosting my immunity
Boosts immunity
It has not only helped in reducing cough but also increased my immunity after using it for a month now
Relief from long term cough
My mother had a cough for more than 1 year and tried a lot of medicines but no effect. But this syrup has cured the cough within 3-4 days and the best part is this is ayurvedic

Expect overnight results.
Ayurveda is best to use right from first symptoms. Early & and frequent dosage is important

Got medicine! I can eat anything now
Ayurveda is best to use right from first symptoms. Early & and frequent dosage is important
I will take medicine only SOS!
Ayurveda is best to use right from first symptoms. Early & and frequent dosage is important
Stay in Touch
Join our list for exclusive access to discounts, product launches, and real talk on Saline Nasal Spray.